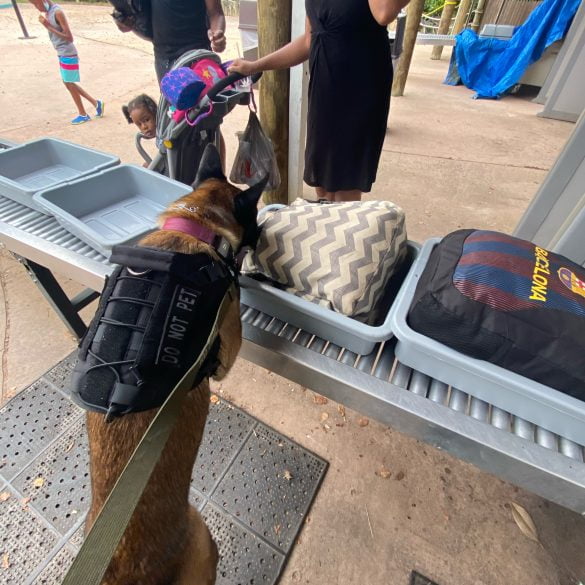 Security Dogs & Security K9's
A Security Dog or a Security K9 is a fairly broad term that may mean a few different things. Most commonly Security Dogs are seen at large events or gatherings screening people for explosives or narcotics. Security Dogs can also help secure an area from people or trespassers, such as commercial buildings, industry or critical infrastructure. If you have security personnel at your event, school, church, etc then you are doing a disservice to your clientele to not have a Security K9 Present. A sniffer dogs nose is 40x more powerful than a humans and is able to locate even minute amounts of explosives, firearms, narcotics and people. A Security Dog can clear a larger area, quicker, than any human security team would be able to. Studies have also shown that the mere presence of a trained K9 can not only deter crimes from happening altogether but also elicit compliance without violence when intervention is needed for life safety.
What Customers Say
Don't just take our word for it. Hear from some of our customers and clients about the K9 Detection and Dog Training Services they received.
No better place to have your dog trained by the most knowledgeable trainers in the area! Highly recommended!!
Basil Dice
Dog Training Customer
As a retired Chief of Police, I have seen many canine teams in operation...and was very impressed at the level of knowledge, skill, and ability of their (ScentWorks) canine teams. I would highly recommend ScentWorks to any school or business that needs their services.
Public School District
Narcotics Detection Customer
What an amazing experience for us and our dog. We highly recommend ScentWorks K9 Academy. Extremely knowledgeable staff. Very accommodating and professional. Adam and Sam as well as the staff are amazing! ScentWorks instilled the confidence in us to work with our dog and couldn't be happier with the progress we have made.
Kelly Magee
I searched for a while to find the most experienced dog trainers in the area and ScentWorks was one of the only specialty trainers in the area. The pricing, availability, knowledge, and experience was so good I ended up not only teaching my dog Search and Rescue but also Explosive Detection for a future side job. Don't settle for Petsmart trainers reading from flashcards (true story), find trainers as knowledgeable as ScentWorks.
Justin C
Dog Training Customer
Most frequent questions and answers
While we can't give an exact number because each location, client, hours, requirements differ, a Security Dog and it's handler is extremely affordable, even more so than many people think. When you also take into account how effective K9 Teams are when supplementing a traditional security team, an Security dog is extremely affordable.
Our Security K9 Team requires nothing special from you that you wouldn't provide a normal human security team. We will bring everything required to effectively search and take care of our K9 Partners
Our Security Dogs are not patrol, "police", or "dual purpose" dogs, and do not conduct any bite training or apprehension training. They are trained in a variety of locations with varying noise levels, people, and other sensory situations to allow them to focus on their job.
Each Scenario is different as is each location's laws and its specific rules. Because we are not law enforcement, what you decide to do with those who may attempt to bring in contraband or trespass is up to you, the client, and the situation and the contraband found. We work closely with local, state, and federal law enforcement in instances where they may be called upon to act or effect an arrest.